When meeting people for the first time or when interviewing for a project, I am frequently asked, "So, what is your style?"  Early in my career, I struggled with the question.  Now, having designed our house, our apartment, and our office, I predictably answer by giving a tour, in person or virtually. The two homes and the office share a curated, somewhat eclectic identity, even with their different programs and architectural DNA.
We've completed projects along many avenues and in various paradigms, from rigorous preservation and restoration projects to ground up-homes.  My personal history and references are similarly diverse.  I grew up amidst conformity in western Michigan in a flat-roofed charcoal gray passive-solar house set askew on its suburban lot.  In college, we studied Jefferson's works in Charlottesville and Palladio's villas in the Veneto.  To confuse matters further, deconstructivism was the design currency du jour during my graduate studies at Columbia University.  Choosing a singular style never occurred to me.
When it comes to design in practice, we seek to find a language that supports and satisfies the unique sensibilities of the individual homeowner. This is the heart of enlightened client service, an engagement that resists egoistic self-expression and a one-style-fits-all design vision.  As practitioners, we have become fluent in varied design languages, and our projects, both in scale and style, reflect this.  Great design is the product of rigorous study, organic development, and the balancing of form and function, transcending stylistic categorization.
I was reminded recently, in a most personal way, that all design strategies are not equal, and that traditional design, which is often dismissively thought to be easy, is as difficult or even more so than designing in the modern vernacular.  My wife Darcy and I drove down from our home in Kent, CT to Redding, CT for a celebration of life event for a friend's mother, Marisa Bisi Erskine, who had passed away soon after her 100th birthday. Her daughter Silvia is a practicing architect and landscape architect with degrees in both from the University Virginia.  Silvia and I graduated in different years, but we both studied in Vicenza and participate as alumni practitioners in UVA's study abroad programs in the Veneto, and we also collaborate on projects here at home.  The party was held at the house that Silvia, Silvia's partner Tom, a retired airline pilot and novelist, Silvia's mom, and Phoebe, the family dog, all shared, and the event was nothing short of spectacular. Family and friends all realized that they had gathered for a celebration of a really, really, good life.  And while each reminiscence was more touching and memorable than the one before, I found the home itself to be an equally powerful testament.
The oldest portion of the house dates to the eighteenth century, with the most recent additions having been built after mother and daughter purchased the property in 2004.  Silvia integrated design of the additions and gardens which blend seamlessly with the much older structure.  I once heard this strategy described by a Litchfield County resident responding to one of our projects as "New England Additive Architecture."
The seamlessness reminds me of a wager I have with the associates in my office, that when we are looking for inspiration for renovations and additions to an older home, I am happy to buy lunch should an associate return with a photograph of a successful addition and not one where a modern structure is appended to an older structure (like I.M. Pei's pyramid in the courtyard of the Louvre).  While exuberant modern additions to historic homes can be exciting and satisfying to both architects and homeowners.  It is harder to find examples of integrated additions than one might think. Kudos to Silvia on her timeless and sensitive architectural and landscape interventions.
As impressive as the coherence and elegance of the architecture is, the furnishings and decoration do a much better job of telling the story of the inhabitants.  The decorations, art and the books tell of a personal style, and with a genuineness that cannot be fabricated.  When decorating with a modern palette, everything can be coordinated and precisely styled.  And yet, we all recall the cringeworthy stories of Edgar Kauffman bringing Frank Lloyd Wright's furniture back to the house when Wright would visit.  While Fallingwater is a masterwork and arguably, the finest example of twentieth century American residential architecture, Master Wright has supplanted Mr. Kaufman as the primary actor.
Walk through Marisa, Silvia, Tom, and Phoebe's home, as we did that day, and not a corner can be turned without being reminded of the gaiety of the inhabitants.  Separate living rooms, or more accurately drawing rooms, flank a central kitchen and dining room where the generations can cook and dine together.  The public rooms all look out on the formal gardens and the distant views.  Books, art, and music abound.  And the sitting areas, which are too numerous to count, beckon the family and guests to sit quietly in conversation or to lose oneself in the shared and solitary passion for literature.
The house in Redding is exactly the home so many designers aspire to simulate and rarely achieve.  Designers can fill a home with antiques, period pieces, and walls of books, but a well-lived life cannot be sourced by purchasing someone else's collections.  Traditional design requires sincerity and the passionate and engaged participation of its patron.  In almost every room, the most recent book lies ready to be picked up, just where the reader had last put it down; and the favorite blanket lays on a small settee in case Phoebe might chose to come out of hiding to nap in a preferred library nook.  I imagine the sprays of flowers do not appear every day, but one notes the miniature citrus trees on the terrace, so lovingly tended, and potted rather than planted for when they are brought into the house during the winter.
The decorations and lifestyle are not commoditized, contrived, or aspirational.  Rather, the home is an honest embodiment and representation of the homeowners' shared personalities.  Quirky in places, cluttered at times, and always in need of touch-ups, the house is an extension of body and soul.  Even filled with people, the house asserts a sense of privacy and intimacy, its spaces to be shared with family and loved ones, slowly over time.
Coming full circle, I return to my own homes (and office) and the question of my own style, hoping to give a more nuanced answer than simply, "come visit."  While I admire and am awed by so many architect-designed homes where the architecture is the art – from La Rotonda to Monticello to Chareau's Maison de Verre (Glass House), to Phillip Johnson's own Glass House, to Fallingwater, I prefer a quieter architecture that does not aspire, dominate, or compete.
I feel our two homes and the office each have an old soul, wholly different than Silvia and Tom's but similar in substance.  We enjoy art that was collected by our parents or made by artist-friends.  We use my mother's cast iron pans every day.  Unless we have recently prepared for a party or a photo shoot, there is always a frustrating amount to do – everything from shelving books that have accumulated on every surface to weeding the gardens and catching up with the ongoing maintenance projects.  A home should not, and really cannot be something fixed in time, but an ever-evolving ever-elusive tribute and testament to the really, really, well-lived life.
And what we do for clients, be they modernists or traditionalist, and whether they seek an architecture of foreground or background, resembles coaching more than anything else.  Once we truly understand a client's program and purpose, we can then exuberantly and rigorously design a home that listens rather than lectures, and one that can evolve and grow slowly, over time.
DF, 6-29-2023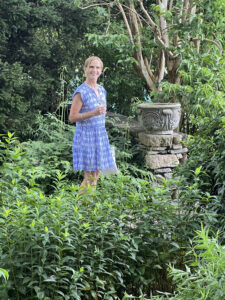 Darcy in the garden at Redding, 6-24-2023